Delivery and Collection
Please note: Our office and warehouse are closed due to Covid-19. Your order will be processed when it is possible for our work places to re-open. Thank you for supporting a local NZ business, and for your patience.
We can arrange delivery to most New Zealand addresses. 
Delivery cost varies depending on what you've ordered and where you want it delivered. The delivery fee is calculated at checkout. For large orders (3 wardrobes or more), please enquire with our team first.
Freight within the North Island:
From $119
Freight within the South Island:
From $169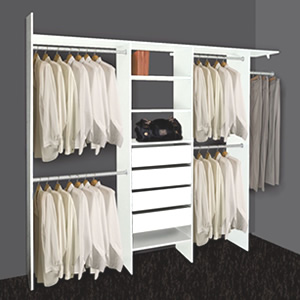 Due to the size of the delivery, we are not able to leave them on-site without being signed.
Delivery fees
The delivery fee is applied at the checkout is determined by the size of your order and your location.
If you intend on purchasing 3 or more wardrobe systems or door sets, please enquire with our team before placing your order as a reduced freight-rate may apply in some instances. Once an order is confirmed we cannot adjust the freight rate so please check with our team prior to ordering.
Unfortunately delivery to rural addresses is not possible. If you are unsure if your delivery address is accepted, please enquire with our team before you order.
Delivery within Auckland-Metro
If your delivery address is within the Auckland-Metro area (Albany-Papakura-Henderson-Howick), we will advise you of the expected delivery date once your order is processed. You will be emailed the day before delivery to advise if it will be a morning or afternoon delivery. Our delivery routes are carefully planned to use Auckland roads most efficiently at certain times of the day, and to ensure every customer receives their delivery. For this reason, delivery times cannot be requested. If someone is not available to be home to meet the delivery team, please email us to reschedule a delivery at a later date, or arrange to collect your order.
Delivery outside Auckland-Metro and all other areas
For orders requiring freight, we will advise you of the expected date your order is due to be despatched. For customers who wish to liaise closely with the freight company, we can provide you with freight details including the connote reference for tracking. In your order notes please advise if you require freight details, or email us with this request.
Collection
Pick up is available at one of our depot locations at no charge. Please ensure you have received an email notification that your order is ready for collection and bring this email with you on the day (either printed or electronic copy is accepted). Please book a day/time for collection at one of our locations at least 1 day prior to pick up.
Please note you will need to bring adequate transport protection (ie blankets, cardboard, tie downs etc) in order to transport your order safely and without damage, as orders for collection are not wrapped for freight. We are not responsible for any damage caused during your transport.

Silverdale, Auckland. Monday – Friday by appointment
Kerikeri – By appointment
Sockburn, Christchurch. Monday – Friday by appointment
If you have any urgent enquiries regarding existing orders, you can call one of our helpful office staff on 0800 426 100