DESIGN GUIDE
Reach-in Wardrobes
You will need to measure the width, depth and height of your existing wardrobe, including any wall returns, and the door height in front of reach-in wardrobes. If you are building a wardrobe cavity, then you can build your wardrobe to suit the system. The bigger the space the more storage you will have. Ensure your wardrobe is a minimum of 550mm deep, preferably 600mm, to ensure there is sufficient depth to hang clothes.
Look at your clothing…do you have a lot of short garments that require hanging? (I.e. shirts, jackets)
Or require more long length hanging? (I.e. pants, dresses, coats)
How many drawers will be sufficient?
Have you got a large collection of shoes that you want stored on display?
Look at your current wardrobe set up – what features work well, and what features don't?
Make a note of your 'wish list' before you start shopping, so you choose a system that will work for you.
So now you know your wardrobe measurements, and what type of storage you want to include in your design. Here is the fun part…it's time to plan your layout! Our modular tower units are standard sizes, and our hanging rails and top shelves are supplied oversized for customisation. What's great about this is you choose where you place the tower/s and hanging rails. You can even install the hanging rails at any height.
Below are some helpful tips and design ideas to get you started…
Helpful Tips
Some obstacles you can come across include wall returns, sliding doors with central drawer units, and low ceiling heights that can affect your design. With wall returns, it's always important to use hanging rails in these areas as this is the easier storage type to access around a corner. If you have wall returns and want to have drawers in the wardrobe, you will need to ensure these are placed away from the returns so your drawers can be fully extended.
Sliding doors are a great space saver in a bedroom, so if you're planning to have drawers in the wardrobe you will need to ensure you locate the drawers behind an opening (i.e. not in the centre where double sliding doors meet) so when your doors stack back your drawers can be fully extended. Remember double doors are made slightly wider than half the frame size so that they overlap to ensure the wardrobe behind is concealed. If you are ordering double sliding doors from us, and you aren't sure if the door opening will be wide enough for drawers, please email us with your wardrobe measurements and we can confirm if this is right for you. Triple sliding doors can often solve this dilemma as each door has its own track, the doors can be stacked behind one another creating a wider opening space at any one time.
Top Shelves are a great addition to any wardrobe. This will give you considerable more storage space and is a perfect spot to keep things you use less frequently like out-of-season clothing, guest linen, travel accessories and anything you don't use every day.
Hanging Rails – We recommend hanging rail lengths are between 300mm and 1200mm wide to avoid over-loading.
Design Ideas
Below is an example of a reach-in wardrobe that is 1800mm wide.
Let's say you require one tower module, and the rest of the space you want to use for hanging clothes. If the tower module is 600mm (60cm) wide, then you will have 1200mm leftover. If you have hinged or bi-fold doors on your wardrobe you could place the tower in the centre, and have 600mm wide hanging either side. You could choose to have 2 hanging rails on one side of the tower (double hanging) and 1 rail on the other side (long hanging). Or if you have double sliding doors on your wardrobe then your tower module will need to be placed off-centre so the drawers make clearance of the door opening. In this case, you may choose to do 300mm wide of hanging on one side of the tower and 900mm of hanging on the other side of the tower. Be sure to measure the door opening size when your sliding doors are stacked open to ensure this will work. We recommend using a shelf tower (without drawers) in small wardrobes with double sliding doors.
Here are some examples below of small reach-in wardrobes:
1800mm Wide Wardrobe with Double Sliding Doors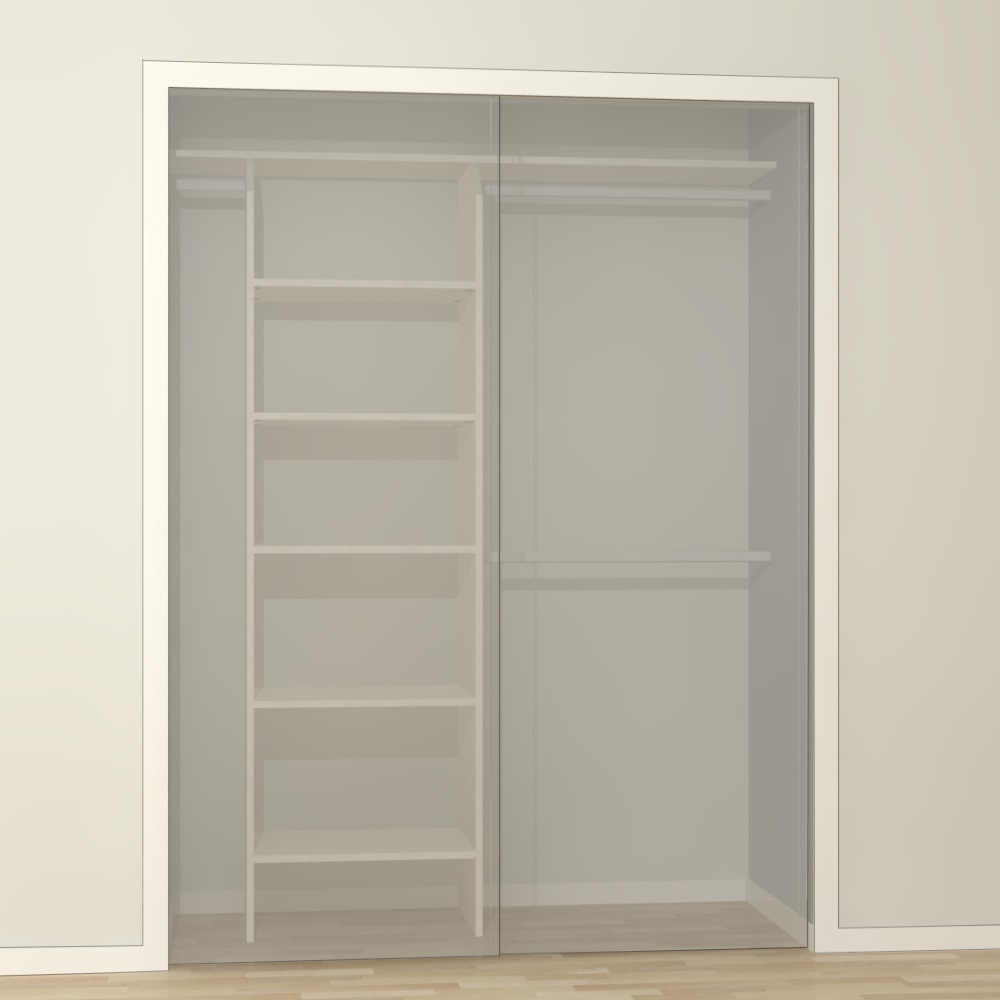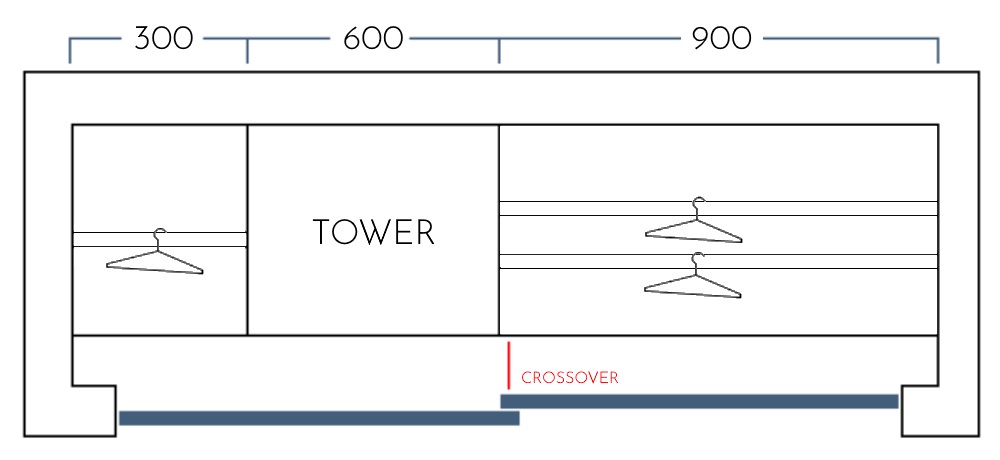 1800mm Wide Wardrobe with Double Hinged Doors