DESIGN GUIDE
Walk-in Wardrobes
For walk-in wardrobes, you will need to measure the walls you are planning on using systems against including their length, depth and height. If you are building a wardrobe cavity, then you can build your wardrobe to suit the system. The bigger the space the more storage you will have. Ensure the walls in your wardrobe have a minimum of 550mm depth, preferably 600mm, to ensure there is sufficient depth to hang clothes.
Look at your clothing…do you have a lot of short garments that require hanging? (I.e. shirts, jackets)
Or require more long length hanging? (I.e. pants, dresses, coats)
How many drawers will be sufficient?
Have you got a large collection of shoes that you want stored on display?
Look at your current wardrobe set up – what features work well, and what features don't?
Make a note of your 'wish list' before you start shopping, so you choose a system that will work for you.
So now you know your wardrobe measurements, and what type of storage you want to include in your design. Here is the fun part…it's time to plan your layout! Our modular tower units are standard sizes, and our hanging rails and top shelves are supplied oversized for customisation. What's great about this is you choose where you place the tower/s and hanging rails. You can even install the hanging rails at any height.
Below are some helpful tips and design ideas to get you started…
Helpful Tips
Ideally you want to have 1000mm (1m) wide pedestrian access to allow yourself to stand back to view your clothing, pull out drawers and easily access items in your wardrobe. If your wardrobe is 2000mm or wider then you could utilise 3 walls for a U-Shape system.
Corners – When a walk-in wardrobe requires fitting around a corner, we recommend hanging clothes into corners. This is the most practical use of a corner and coat hangers can glide along the rail making access easier. Hanging clothes can take up as much as 600mm in depth (shoulder to shoulder) so when clothes hanging into a corner, 700mm space on the adjacent side must be allowed when planning multiple units.
Top Shelves are a great addition to any wardrobe. This will give you considerable more storage space and is a perfect spot to keep things you use less frequently like out-of-season clothing, guest linen, travel accessories and anything you don't use every day.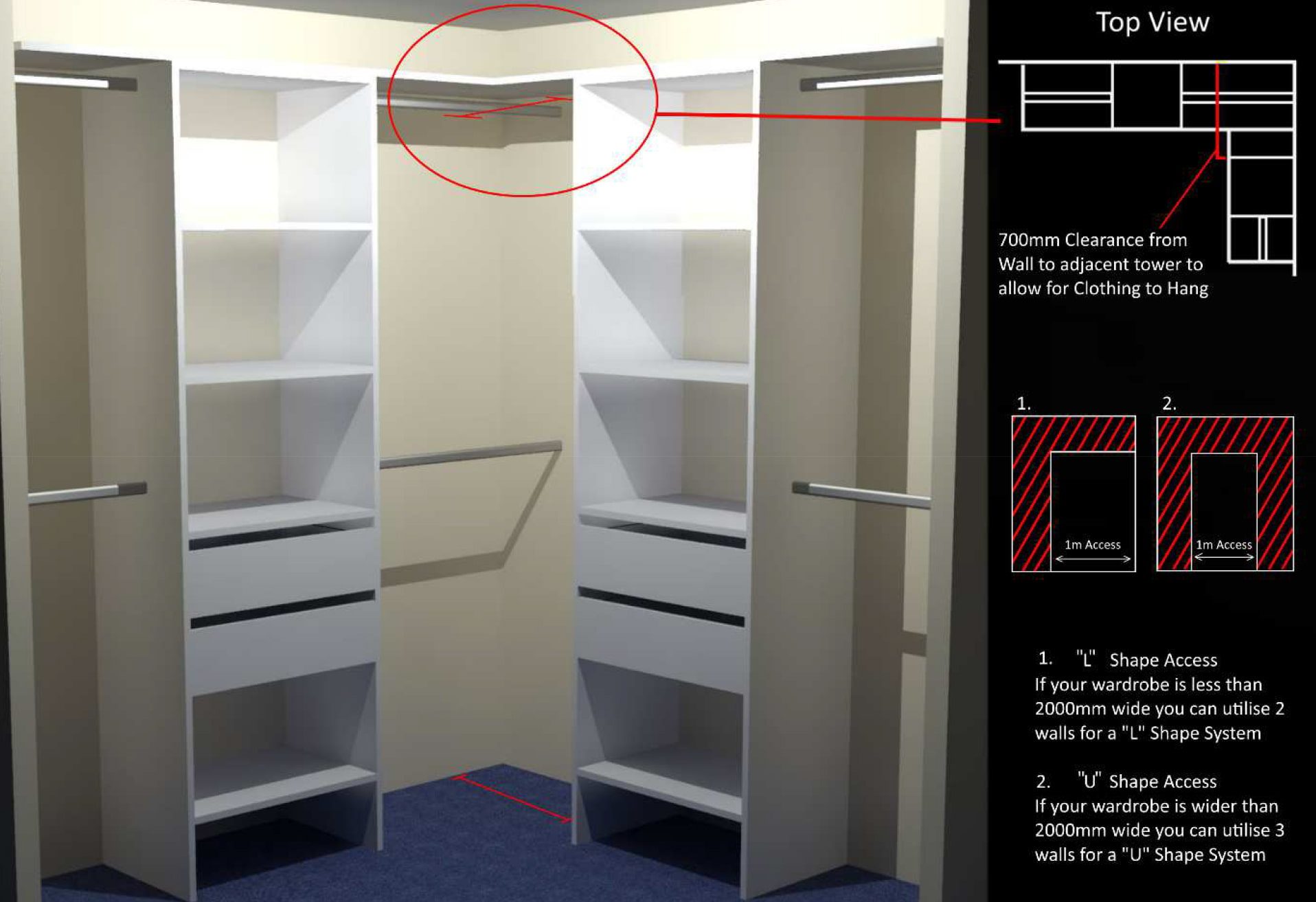 Design Ideas
Below are some examples of L-Shaped Wardrobes.
2400 x 1400mm Walk-in Wardrobe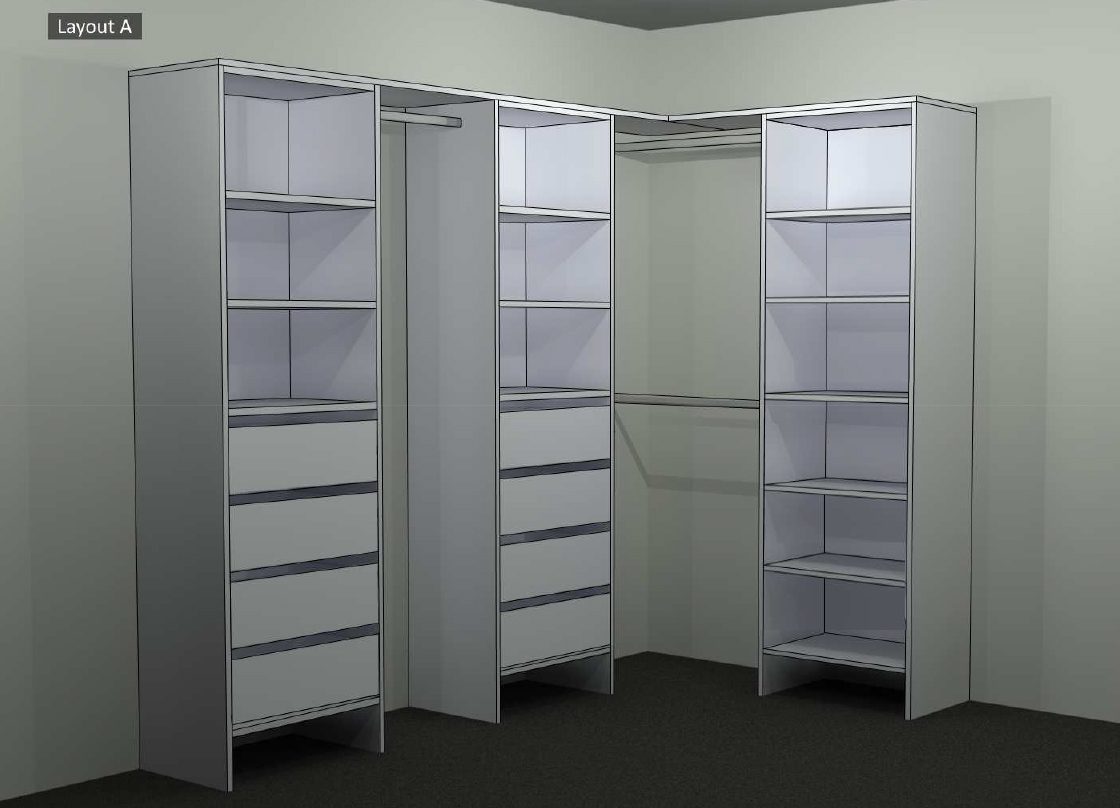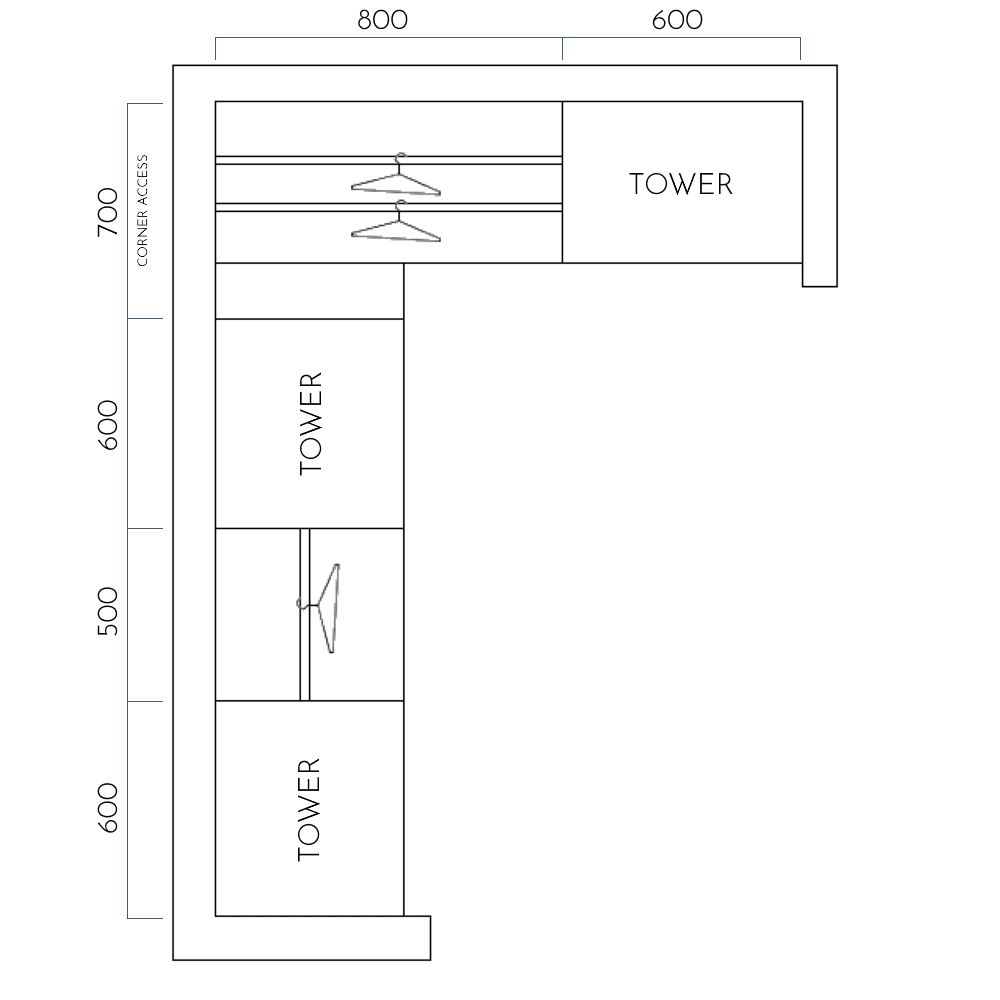 2400 x 1700mm Walk-in Wardrobe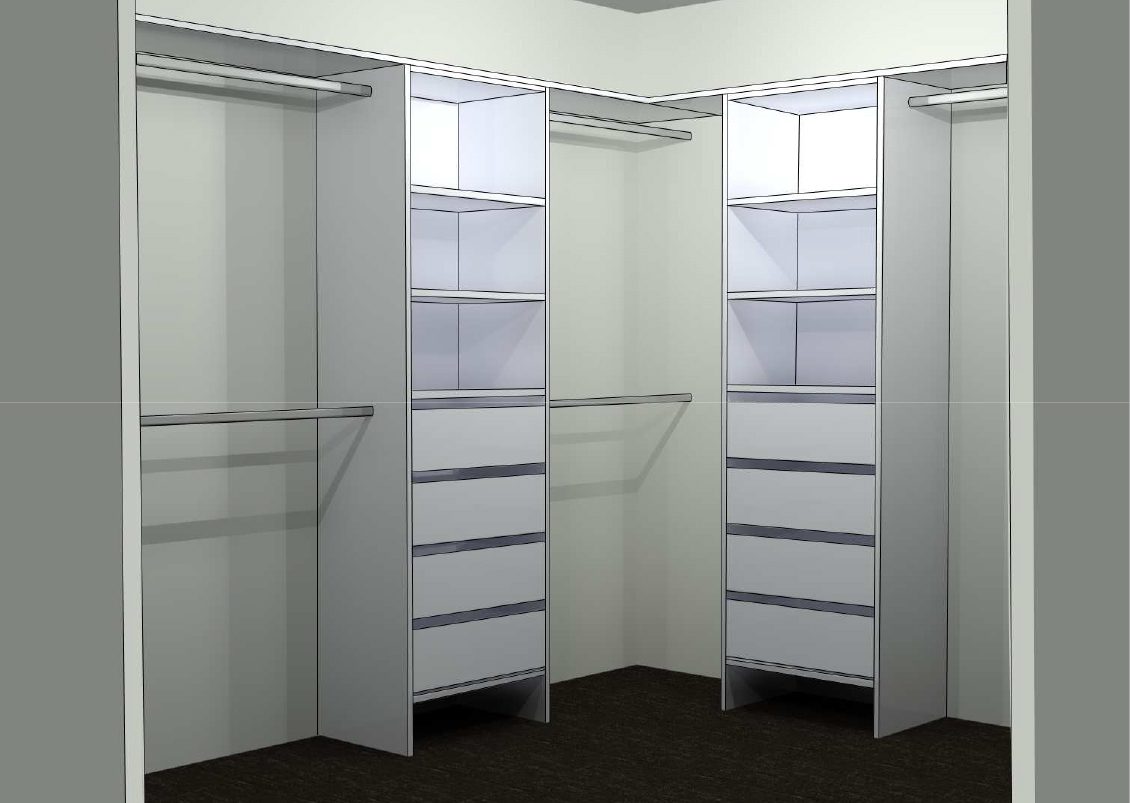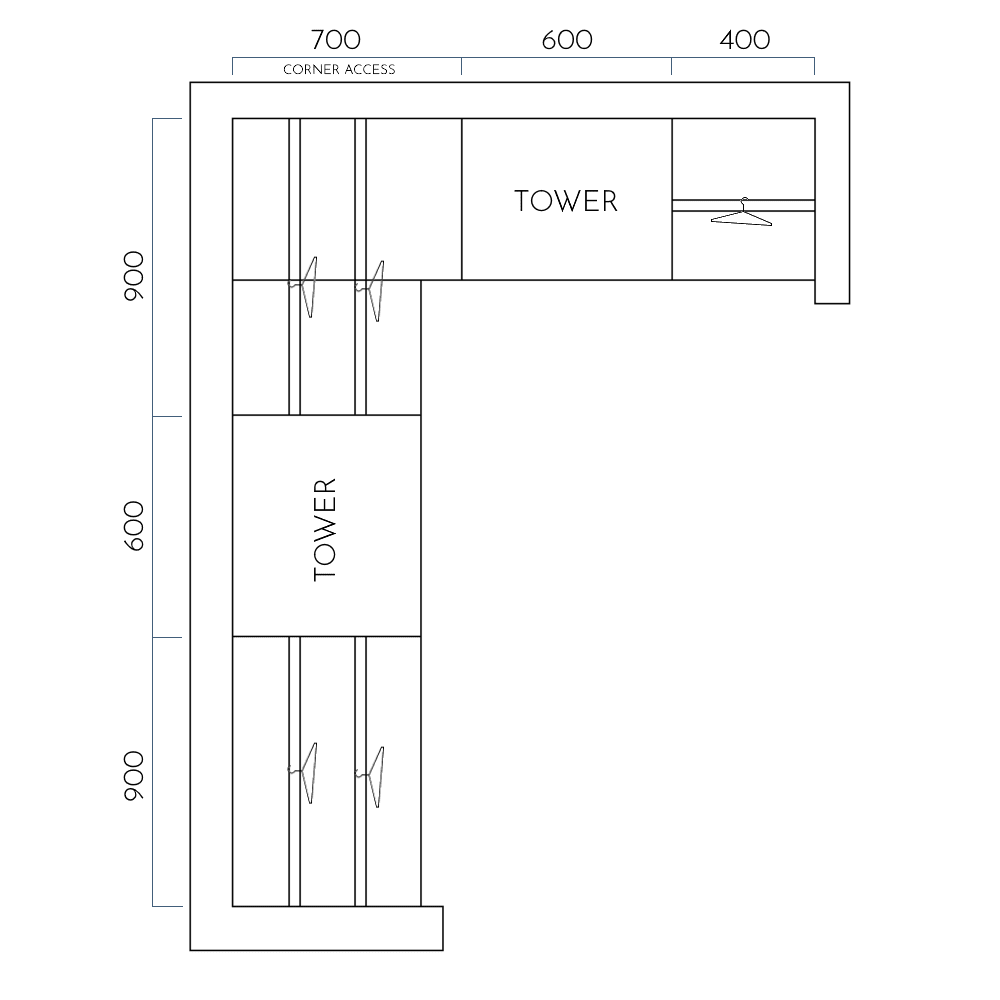 Below are some examples of U-Shaped Wardrobes.
2400mm x 2000mm x 2400mm Walk-in Wardrobe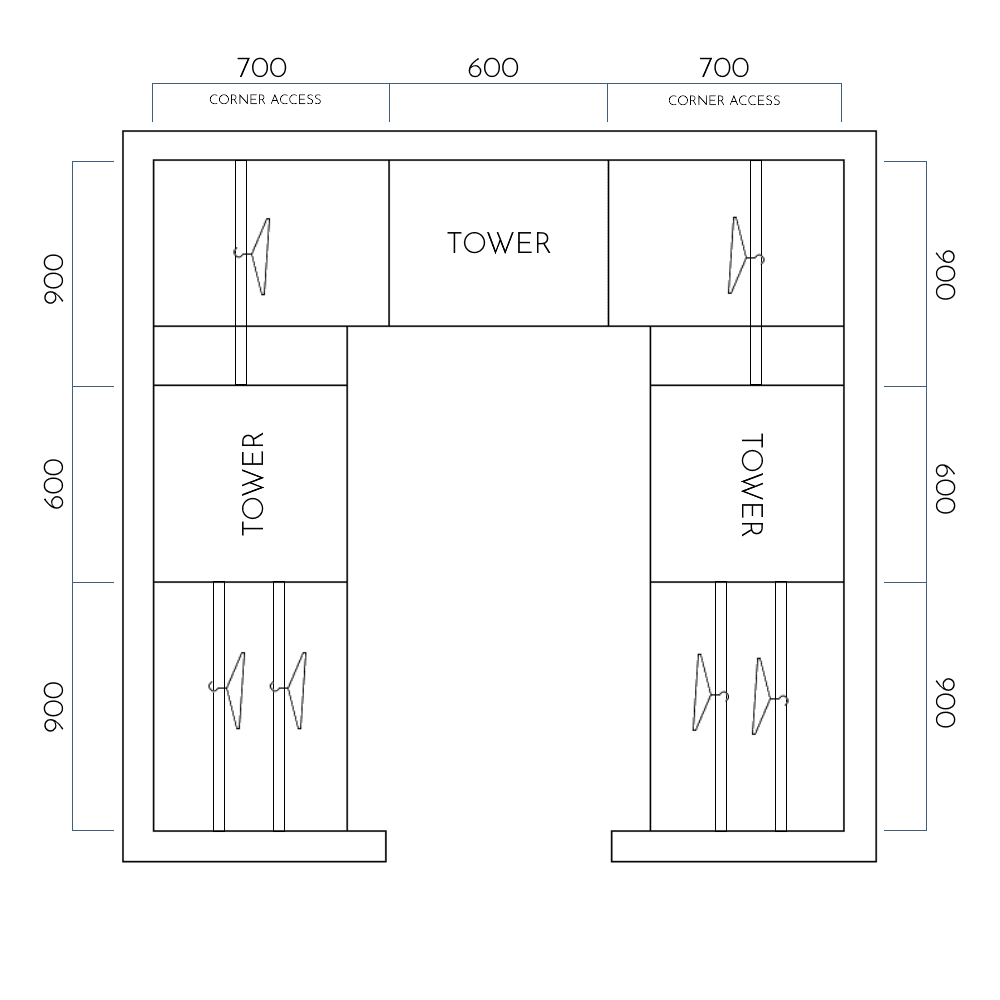 1800mm x 2400 x 1800mm Walk-in Wardrobe