HOW TO GET STARTED
Where do I start? / Which system should I get?
We define wardrobes as either "reach-in" or "walk-in", and it's pretty straight forward to work out which one you have.
Reach in wardrobes are wardrobes that you reach into, without walking into, and usually concealed with sliding, hinged or bi-fold doors.
Walk in wardrobes are wardrobes that you completely walk into and are usually a small room, or a walk-through area between two rooms. These wardrobe areas are not limited by wall returns or door jambs.
Below is the anatomy of a wardrobe, to help with the wardrobe terminology we use: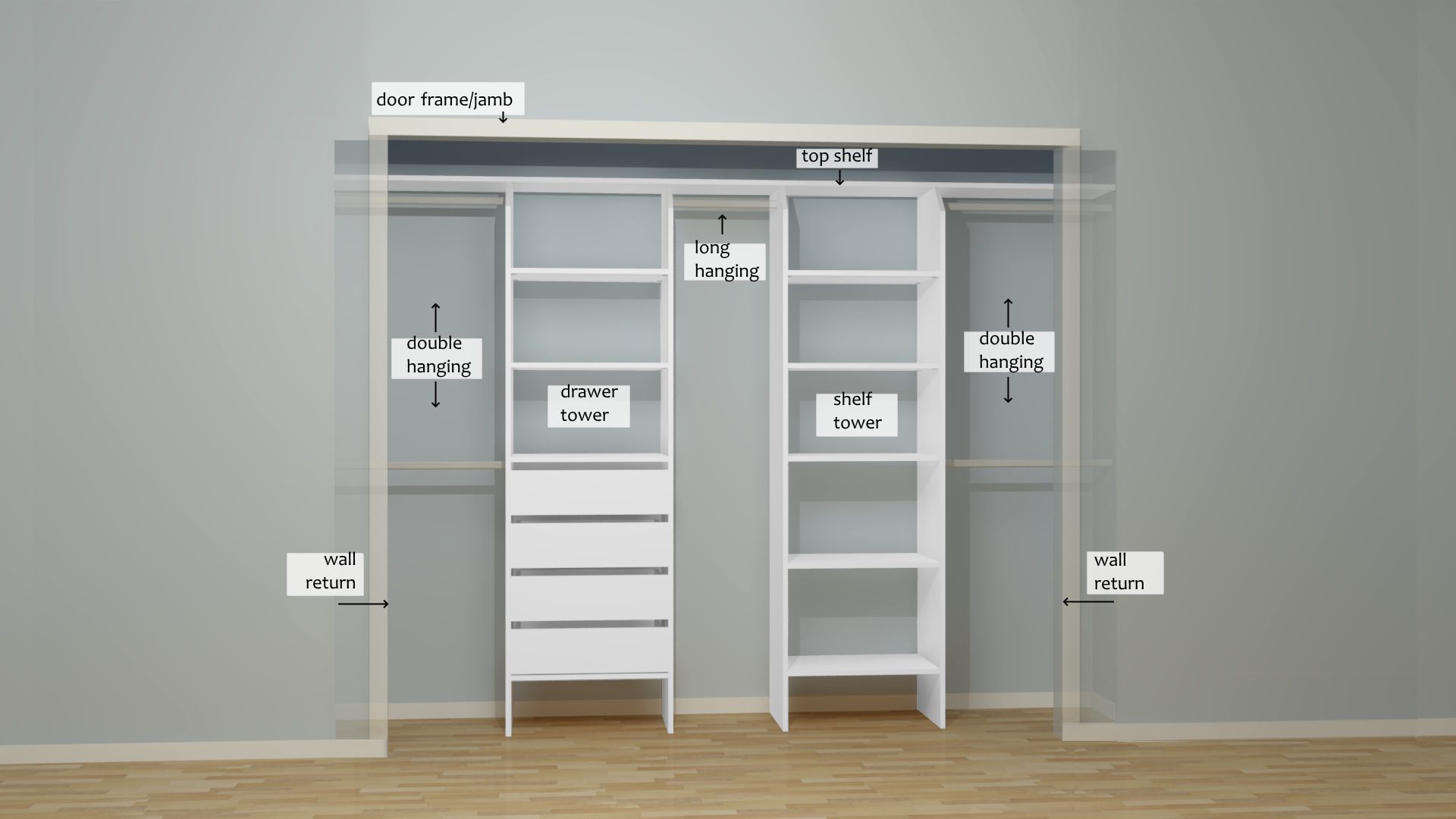 In order to find which system will fit, you'll need to know the size of your wardrobe. Grab a tape measure, a pen and paper and write down these measurements.
Reach-in wardrobes:
Width inside wardrobe from the left wall to right wall.
Height from floor to ceiling inside wardrobe.
Depth inside wardrobe front wall to back wall.
Wall returns (if any).
Height of door opening space from floor to underside of door jamb
Width of door opening space when doors are fully opened (or sliding doors stacked to one side) – when your doors are open what is the accessible space you have to reach into your wardrobe?
If you are building a wardrobe cavity, ensure your wardrobe is a minimum of 550mm deep to ensure there is sufficient depth to hang clothes.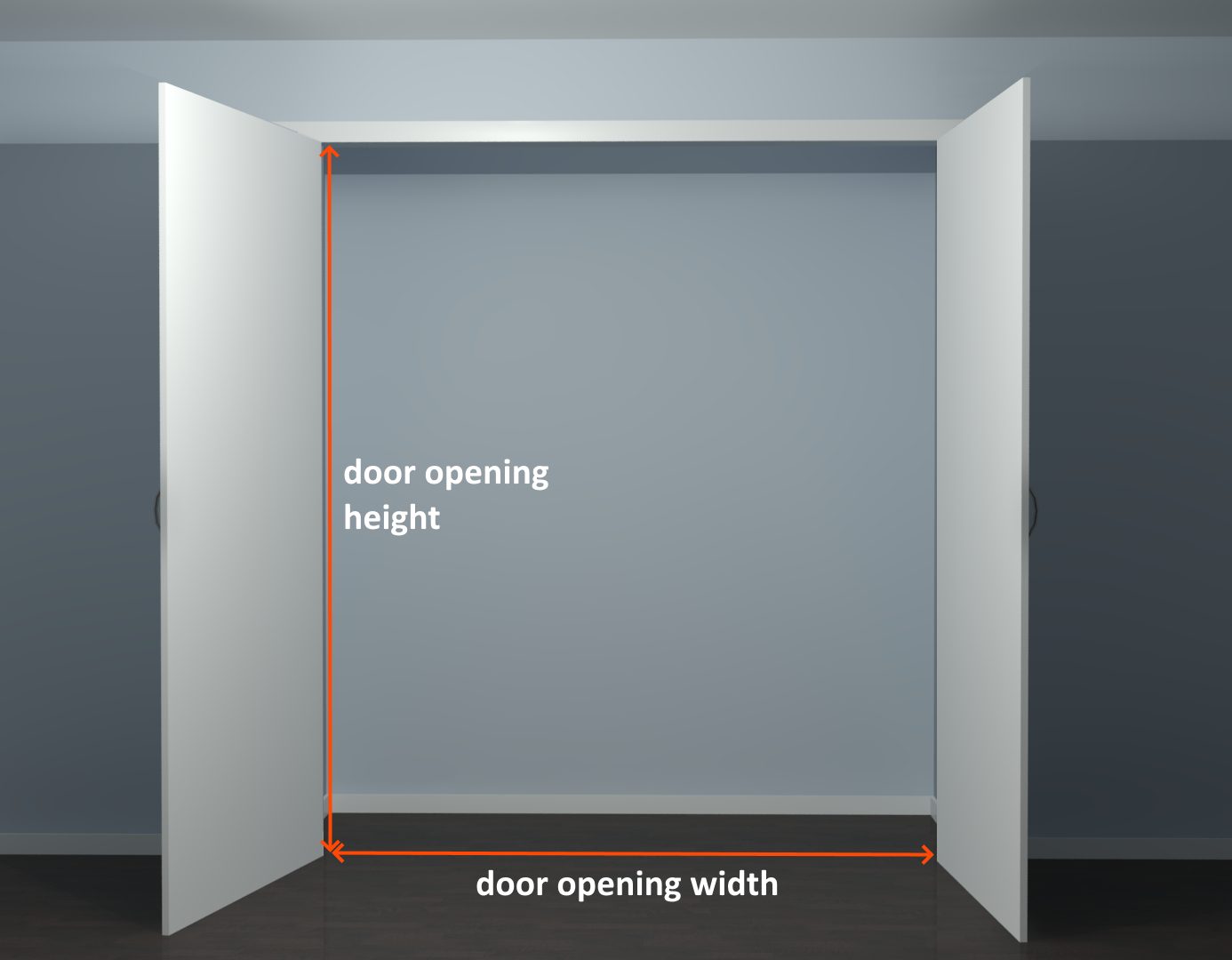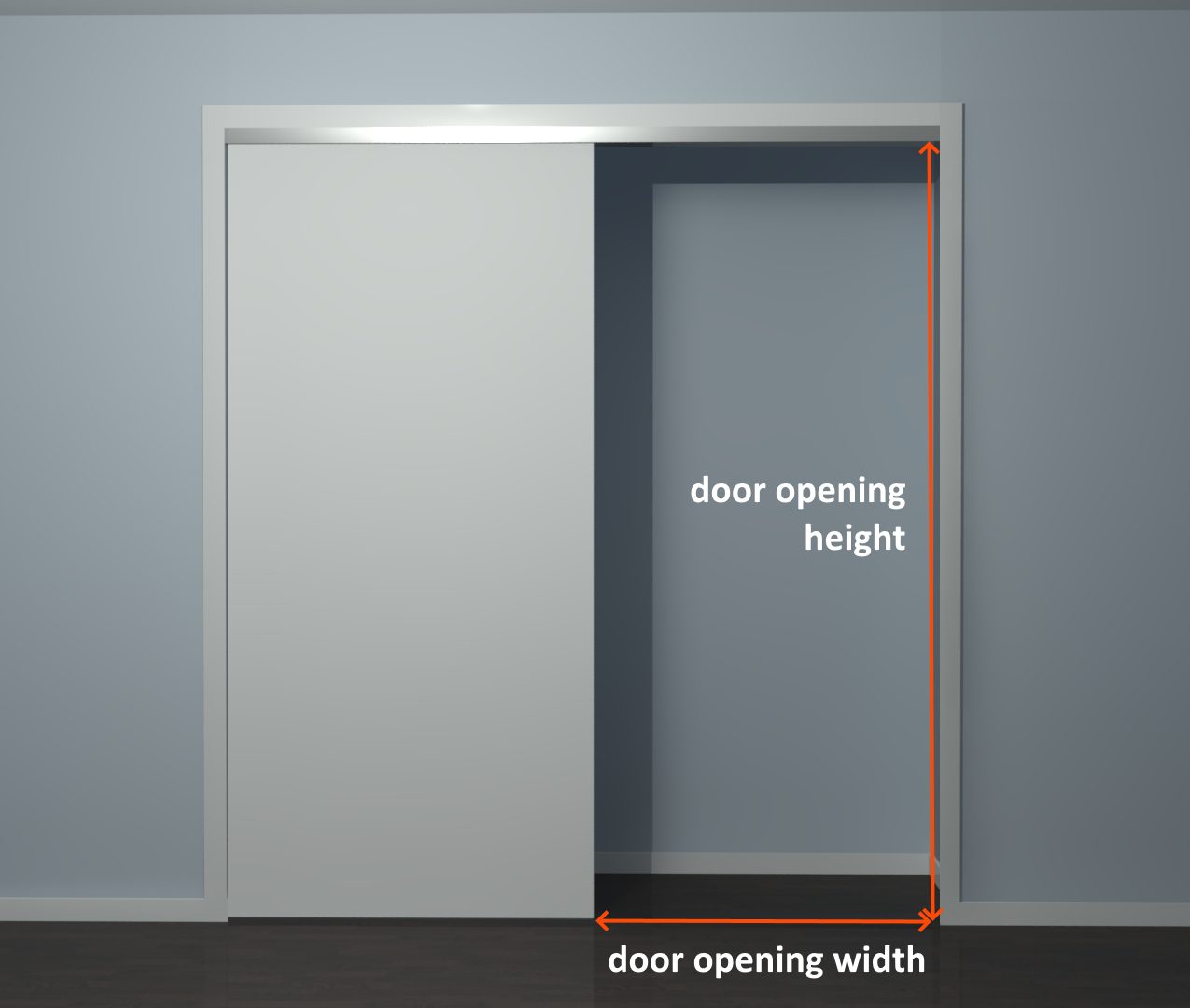 For walk-in wardrobes you'll just need to measure each length of the wall as shown. Ideally you want to have 1000mm (1m) wide pedestrian access to allow yourself to stand back to view your clothing, pull out drawers and easily access items in your wardrobe. If your wardrobe is wider than 2000mm, then you could utilise 3 walls for a U-Shape system.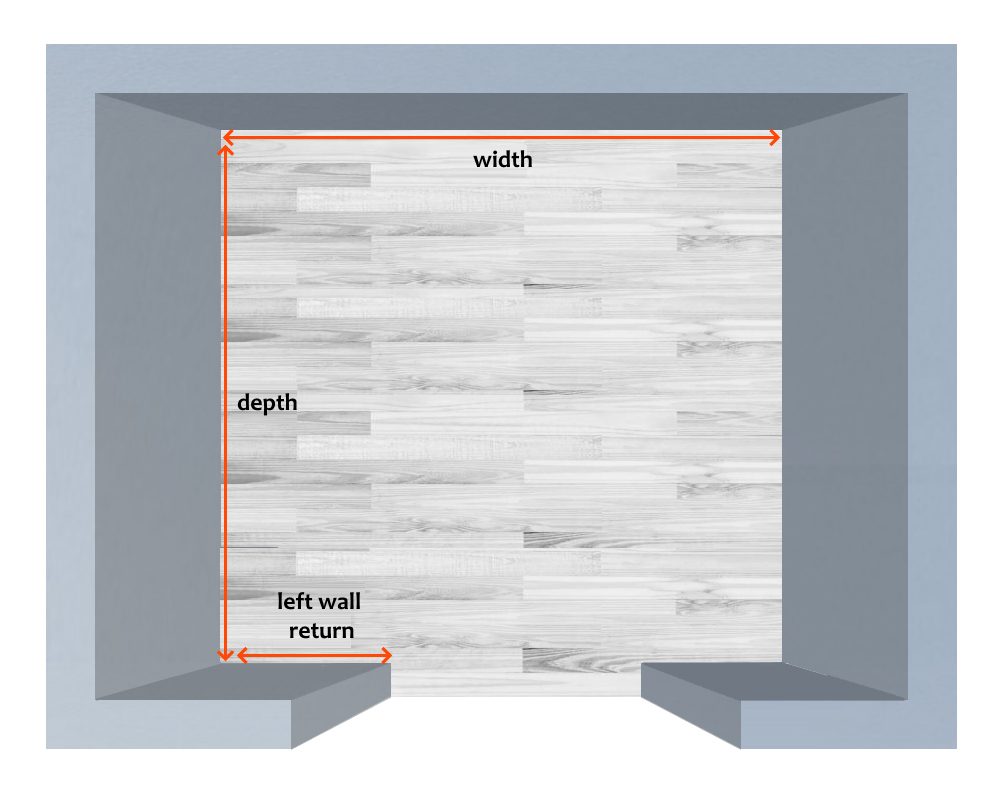 You'll need to pay close attention to any "obstructions" that could affect your wardrobe use, for example your door opening height, the opening width when your doors are fully open, and wall returns. All of these can limit accessibility and determine whether having drawers inside the wardrobe is possible or not.
Corners – When a walk-in wardrobe requires fitting around a corner, we recommend hanging clothes into corners. This is the most practical use of a corner and coat hangers can glide along the rail making access easier. Hanging clothes can take up as much as 600mm in depth (shoulder to shoulder) so when clothes hanging into a corner, 700mm space on the adjacent side should be allowed when planning multiple units.
Pro Tip – Wardrobes Online recommend installing the hanging rails in 'hard to reach' areas because clothes can slide and move freely on hanging rails. For example at each end of the wardrobe behind wall returns, or in the centre behind double sliding doors etc. And you want to keep your hanging rail length no shorter than 300mm for an easy install, and no wider than 1200mm to avoid over-loading.
Door jamb height: If your door jamb height (from floor to underside of the door frame), is between 1900mm and 2200mm high, we would recommend a system with a 300mm deep top shelf. This is so that you can still easily use the top shelf without the door jamb limiting access. You'll find some of our ranges like Tasman Wardrobes and Summit Wardrobes feature a truncated top shelf, where the system is mostly 400mm deep but then the top shelf is set back at 300mm deep for this exact purpose. If your door height is above 2200mm then you won't be limited by the door jamb height and therefore you can opt for a top shelf that is either 400mm or 300mm deep.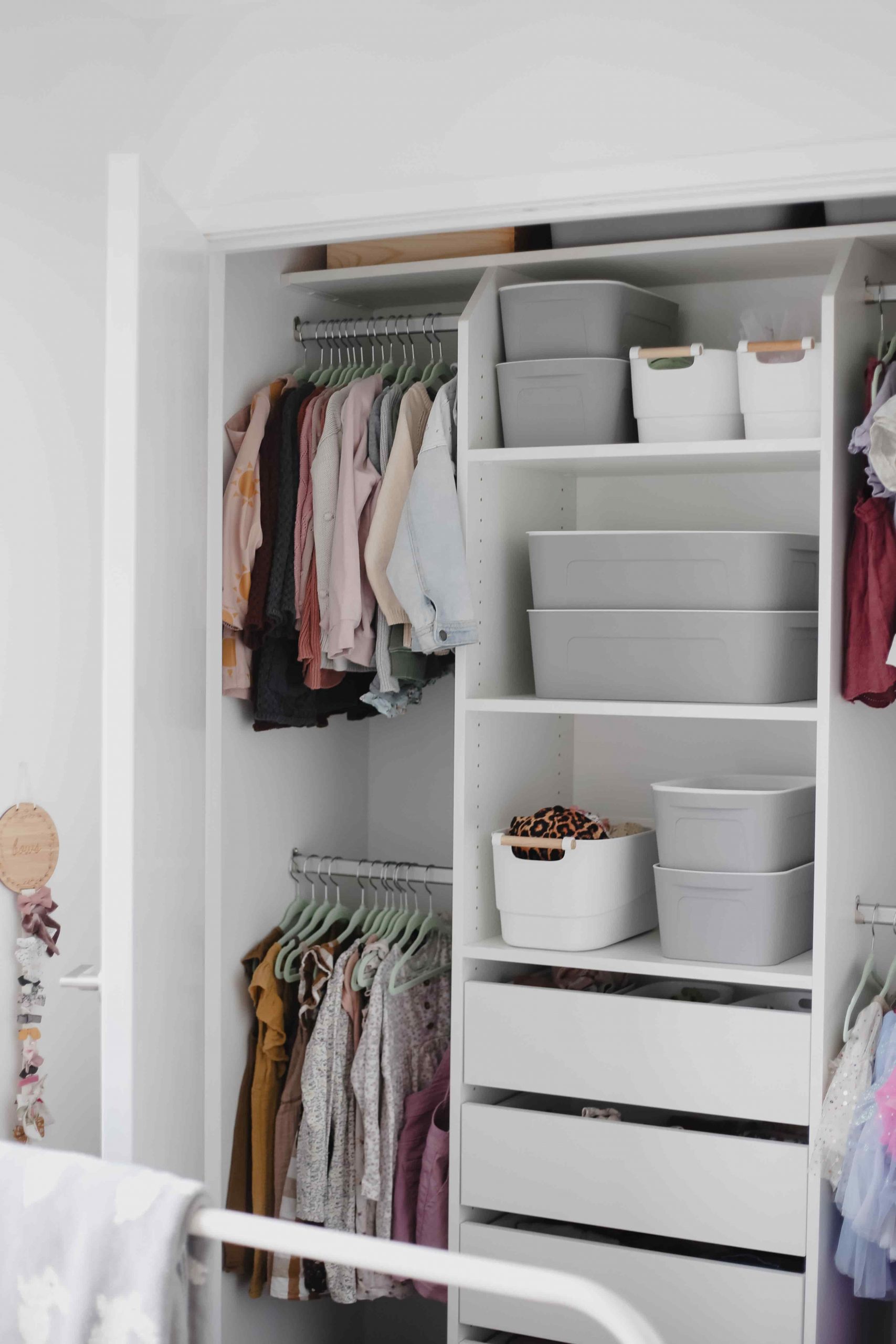 Door opening width: You'll need to ensure the opening space available is going to be wide enough to position a tower/module behind this opening so the system can be fully used. For example, you cannot place a drawer tower in the centre of a wardrobe with double sliding doors, as you will not be able to easily access shelves nor extend drawers in the centre section of the wardrobe where the doors overlap. However, depending on the wardrobe size and your door opening, sometimes placing the tower/module off centre can still work with double sliding doors, so long as the door opening is wide enough for the tower. Be sure to plan your position of the tower/module and then measure how long your hanging rails will need to be.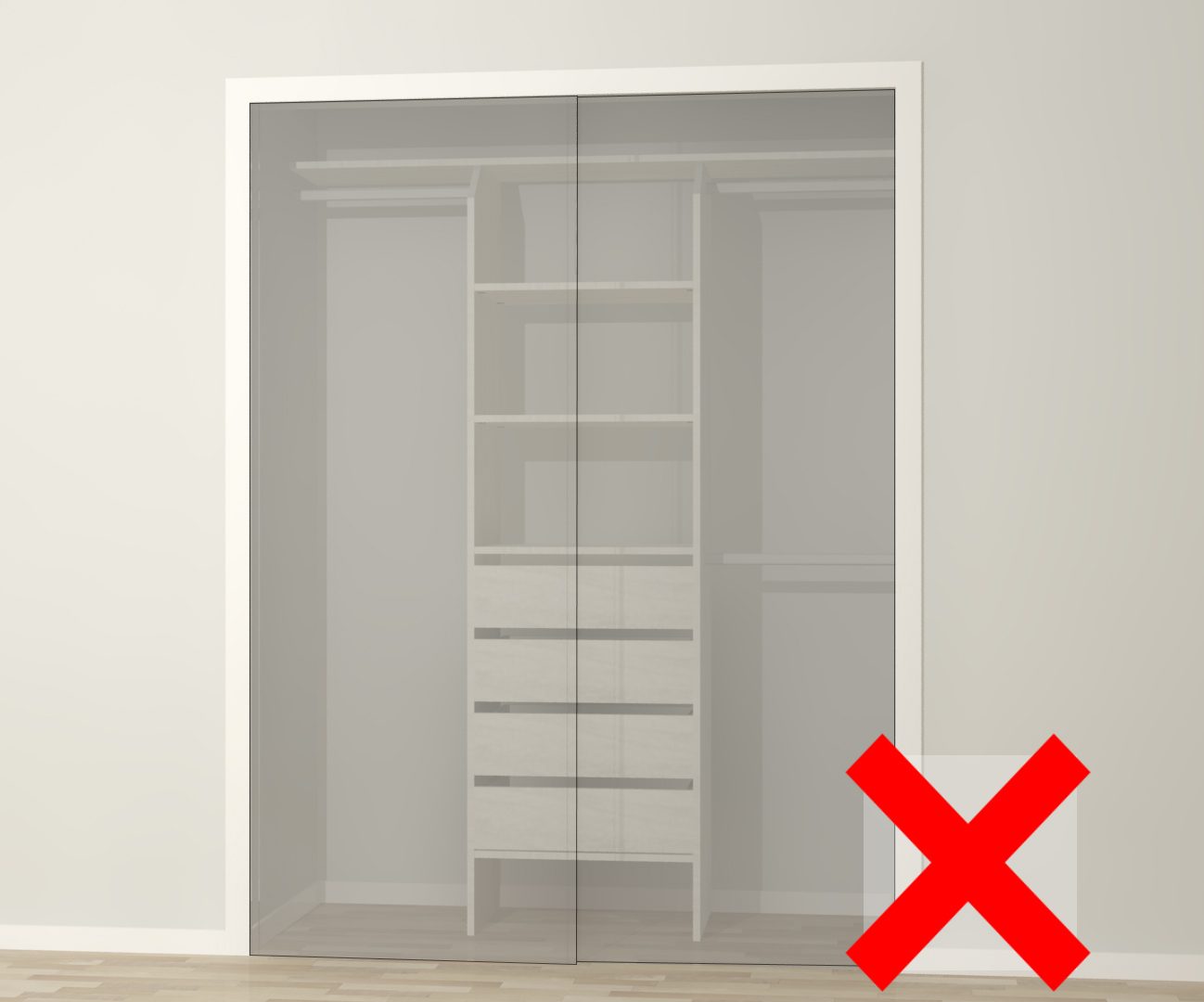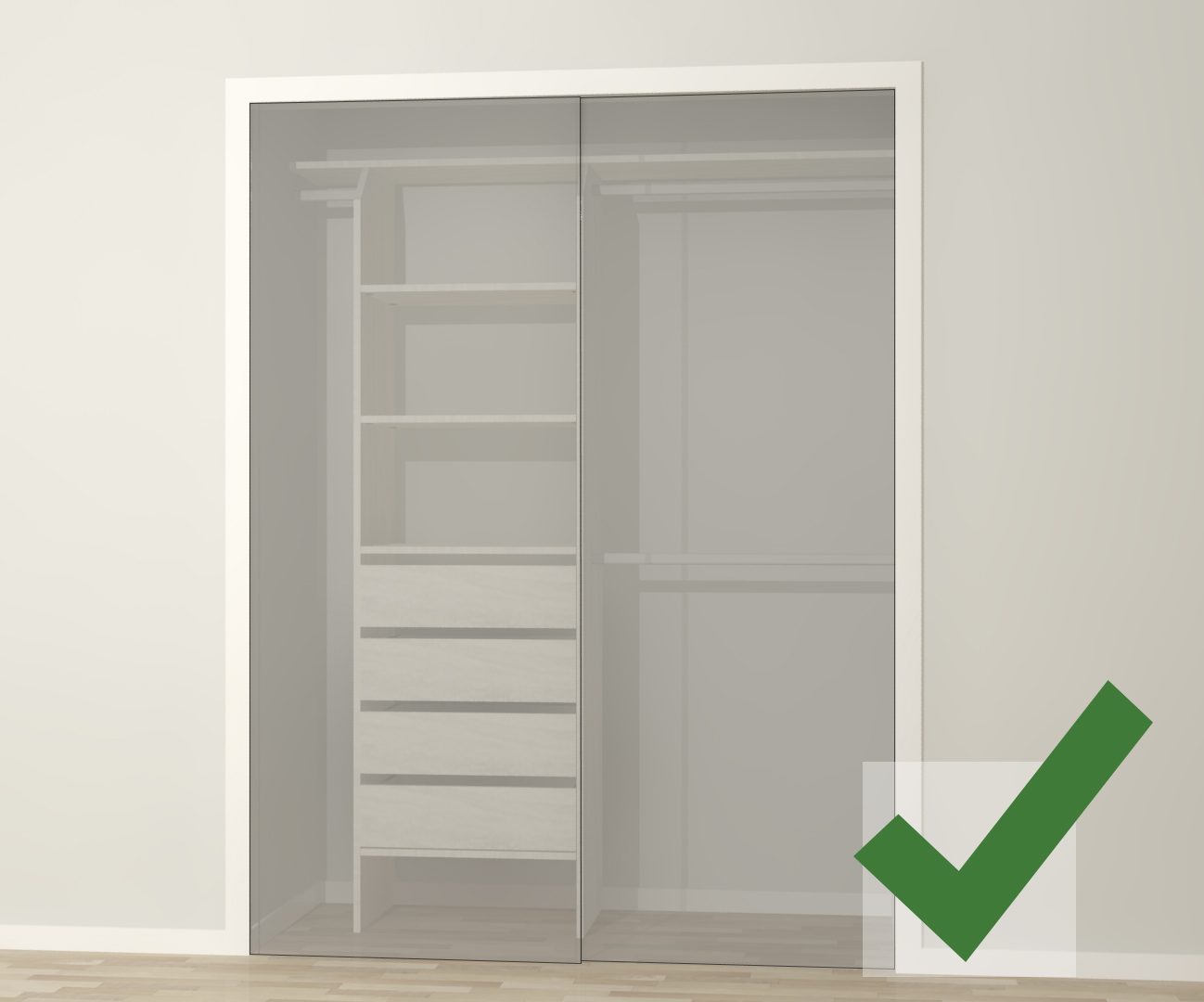 Wall returns: It's very common to have wall returns on both sides of your wardrobe, some only one side, and new homes may have none. Either way, measure any wall return from the inside of your wardrobe to where the side of the door jamb stops. You will need to avoid putting a drawer tower behind the wall returns as these will obstruct the drawer extension. If the wall returns are insignificant (<150mm) you could still position a shelf tower behind the wall returns if you're happy to access shelves around a corner, but not a drawer tower.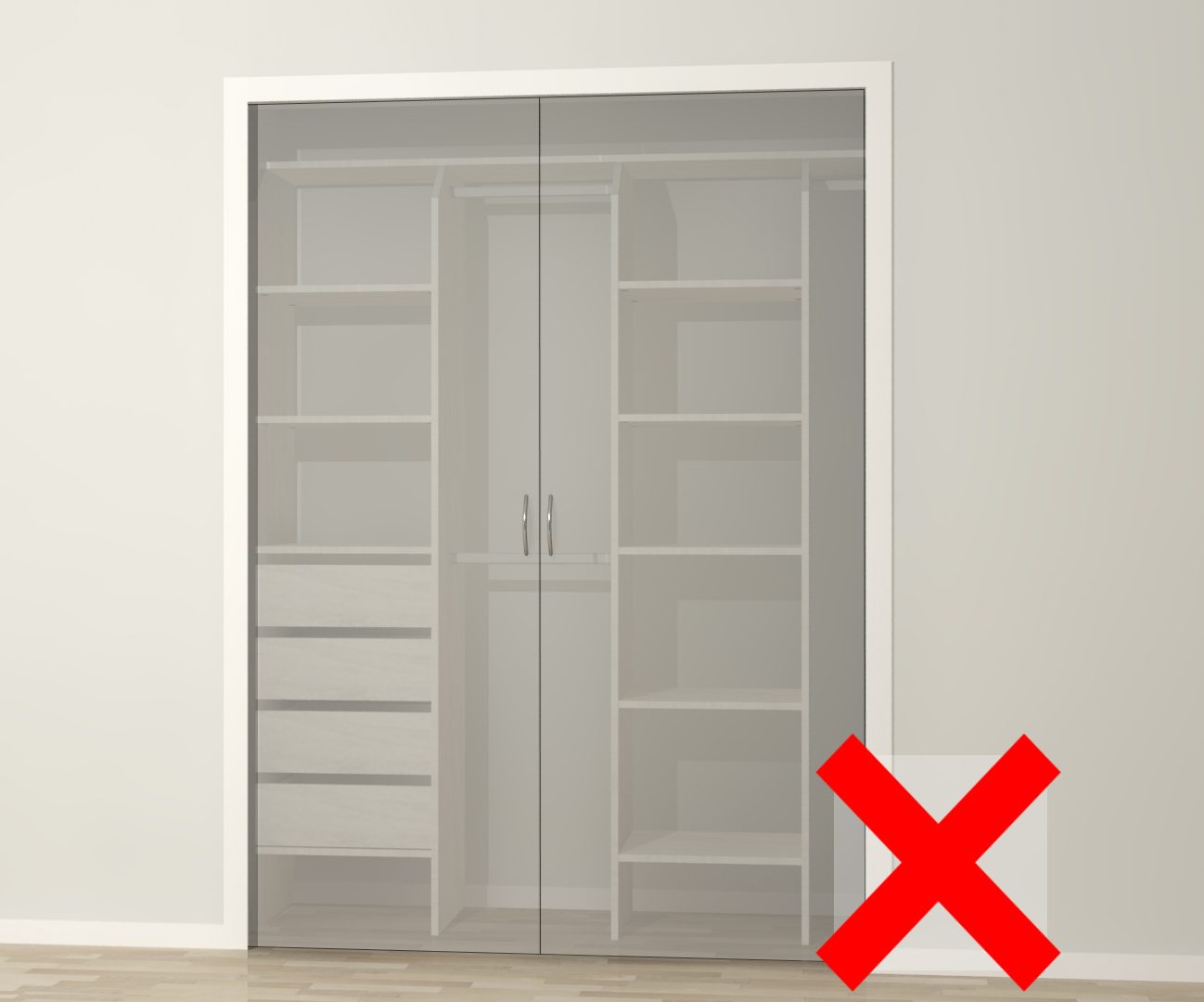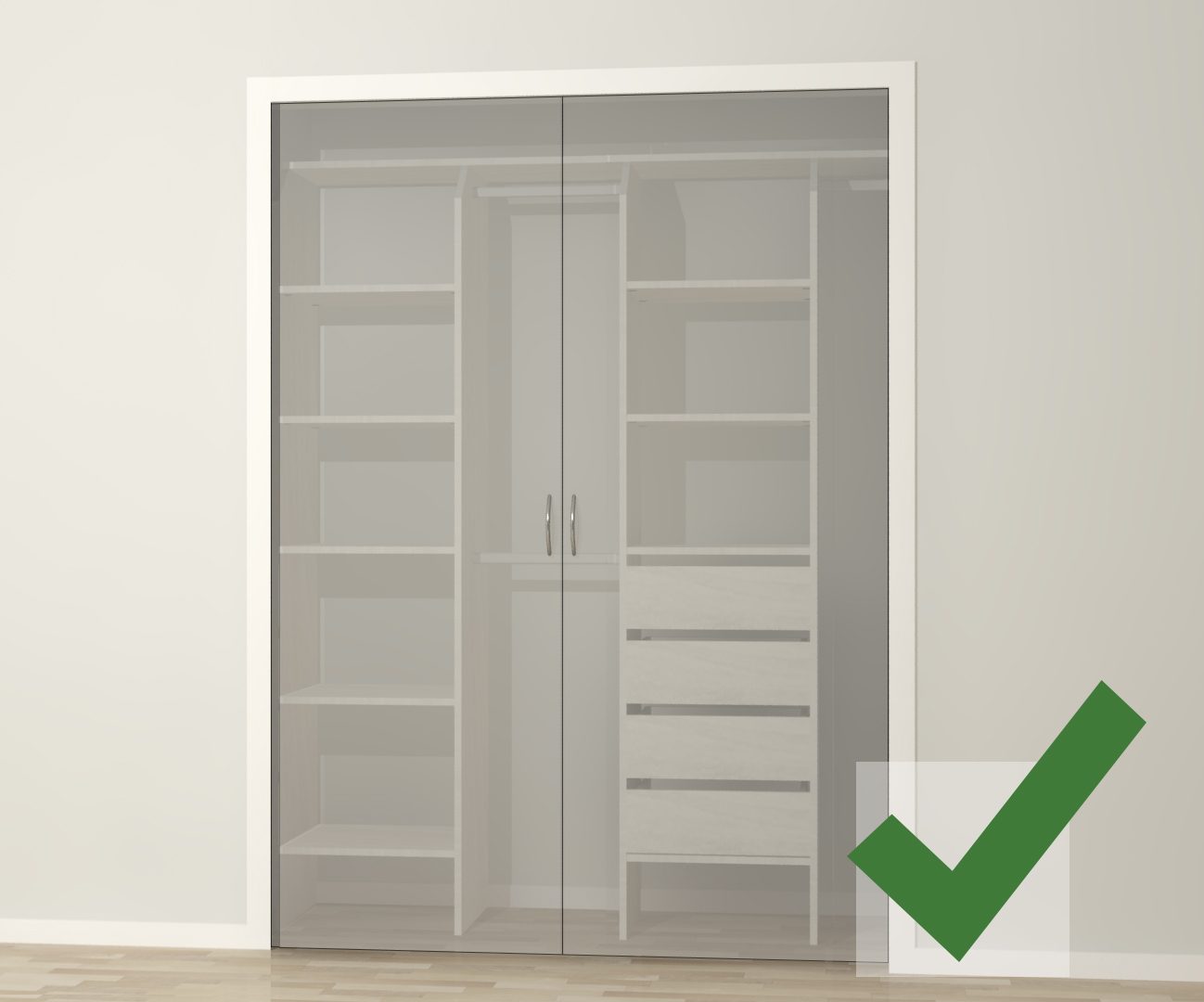 Decide whether you want a system with drawers, no drawers, plenty of shelves, or mostly hanging etc and then begin searching our range of products using your wardrobe size as a guide.
Small Wardrobes – systems to fit wardrobes from 900mm wide up to 2000mm wide
Medium Wardrobes – systems to fit wardrobes from 1200mm wide up to 2400mm wide
Large Wardrobes – systems to fit wardrobes from 2100mm wide up to 4000mm wide
Walk-In Wardrobes – systems to fit most sized walk-in wardrobes.
For example if your wardrobe is 1835mm wide, you would be best suited to look in the Medium Wardrobe range. Or if you like a particular look of one of our products, you can search by range.
Pro Tip – Always look for the "Fits wardrobes from XYZmm up to XYZmm wide", to check whether your wardrobe measurements are within these guidelines.
Below are some examples of wardrobes at all different sizes and shapes, and we show you just a few ideas of what can be accomplished with each wardrobe.
Case Example 1:
Small Reach-In Wardrobe 1237mm wide with 1 hinged door.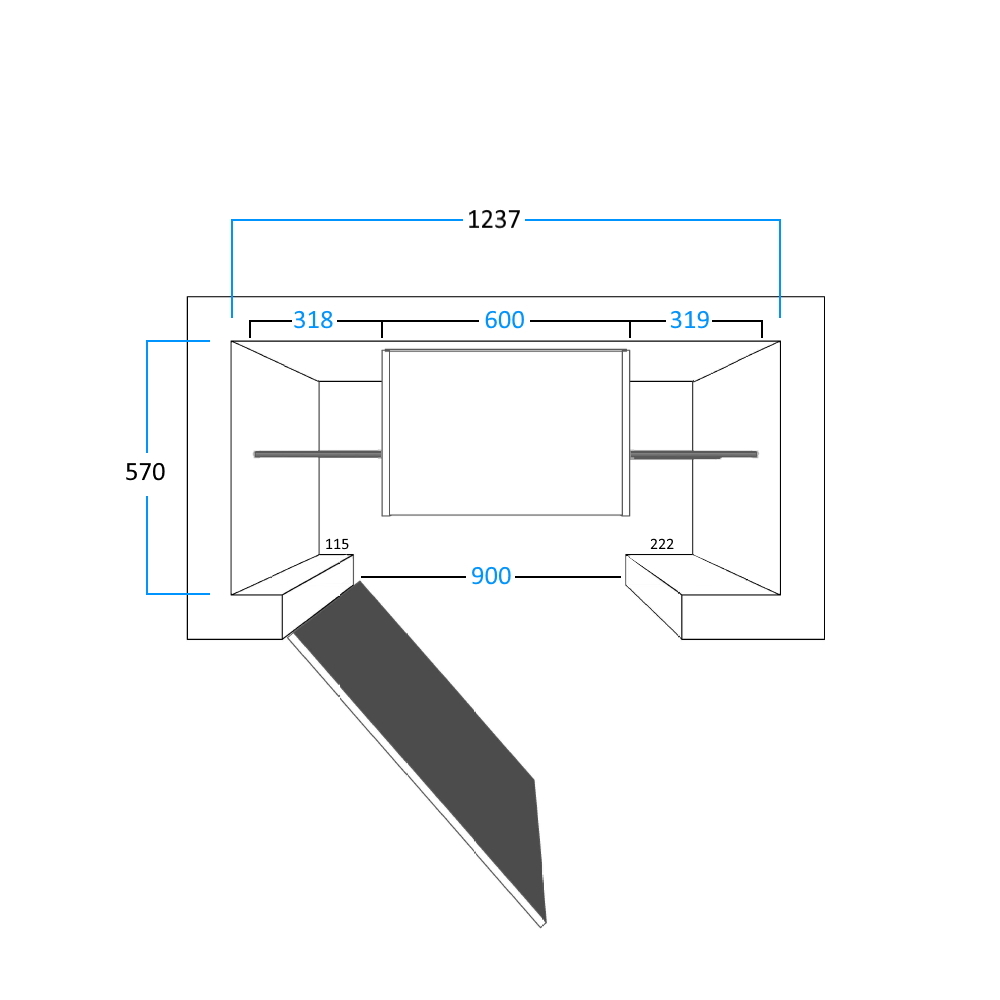 Case Example 2:
Small Reach-In Wardrobe 1728mm wide with 2 sliding doors.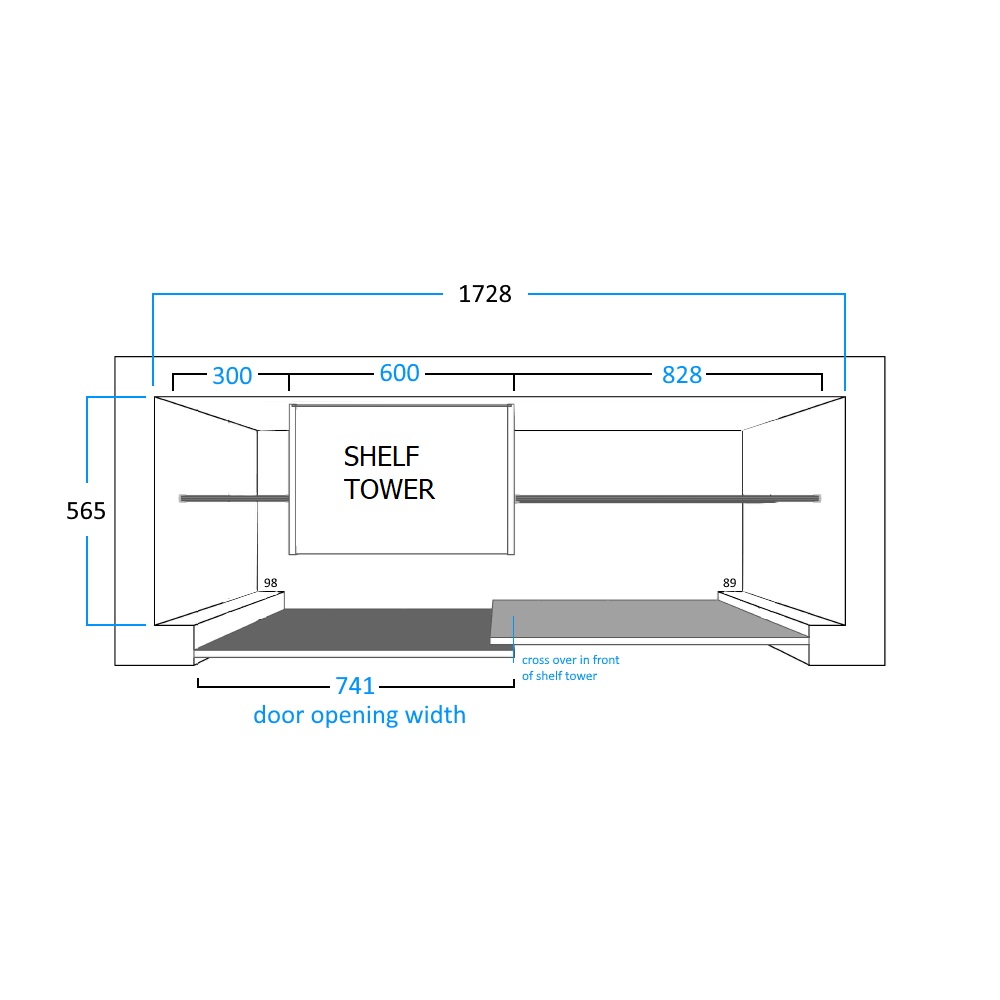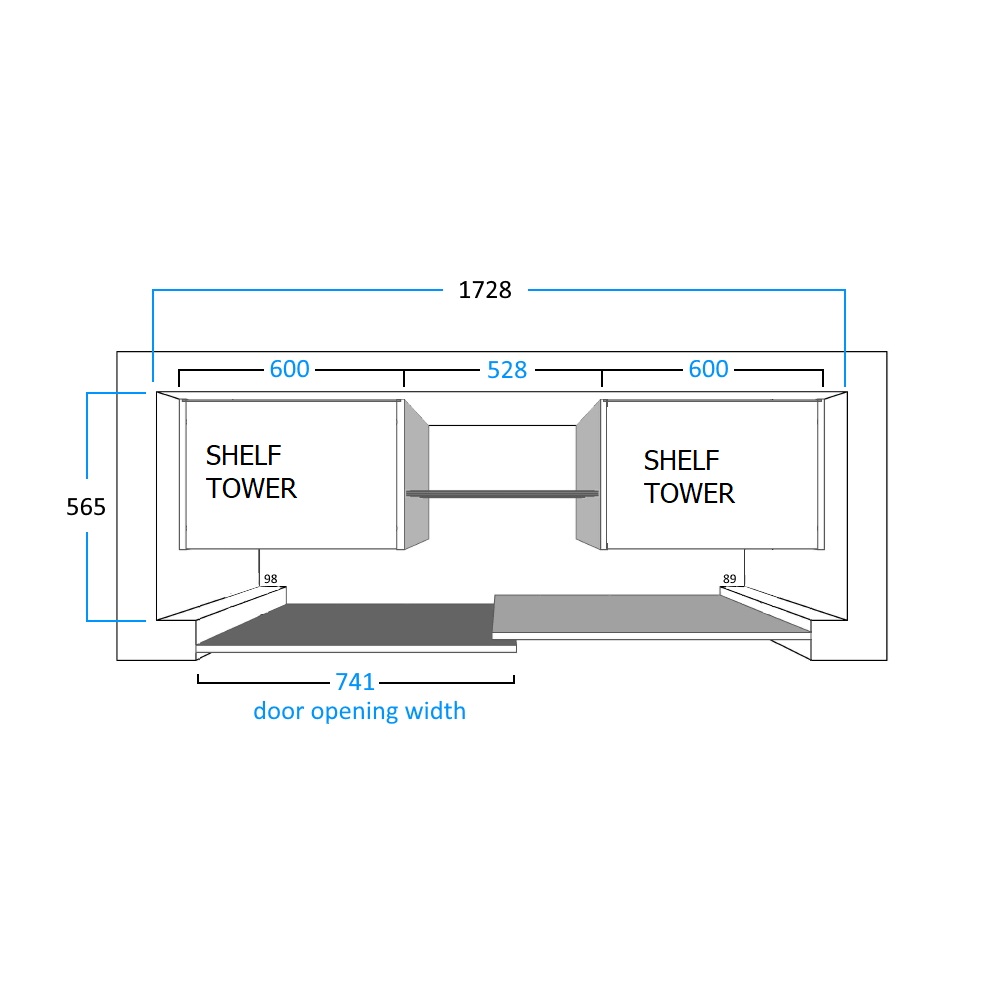 Case Example 3:
Medium Reach-In Wardrobe 1995mm wide with 2 hinged doors.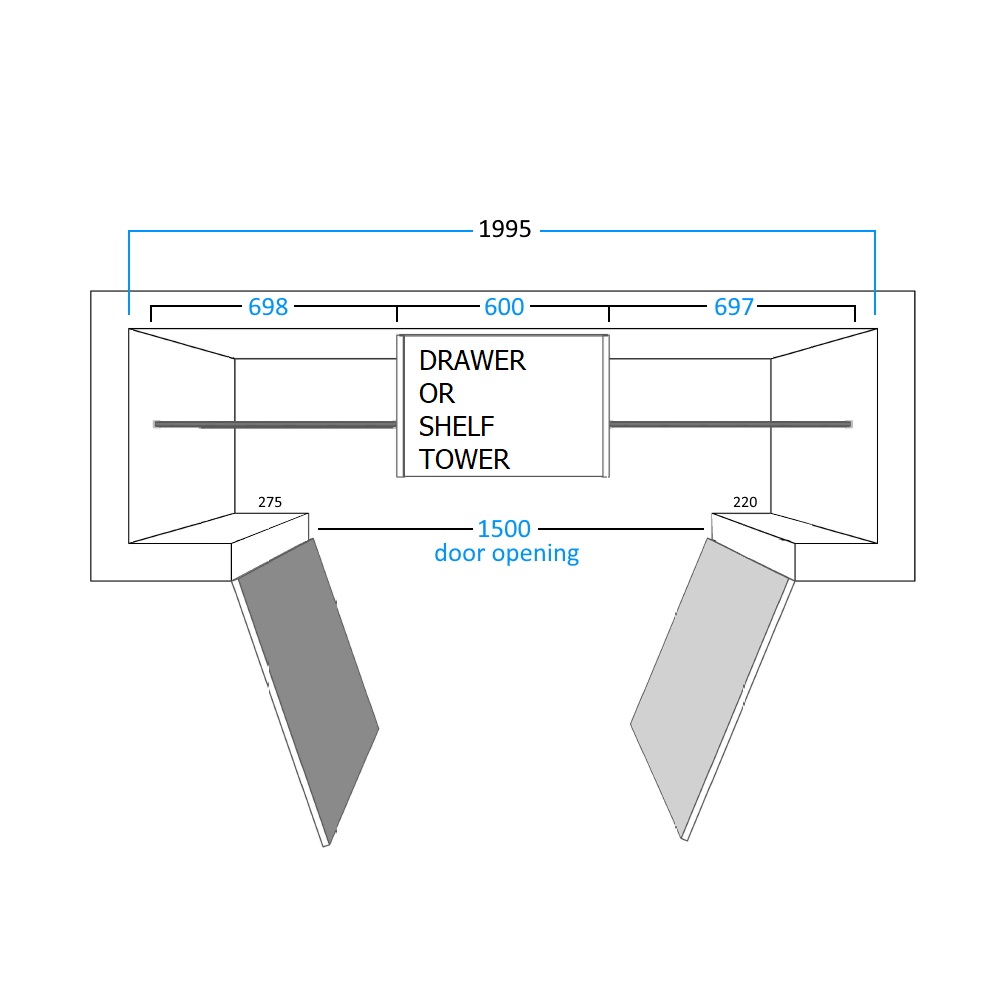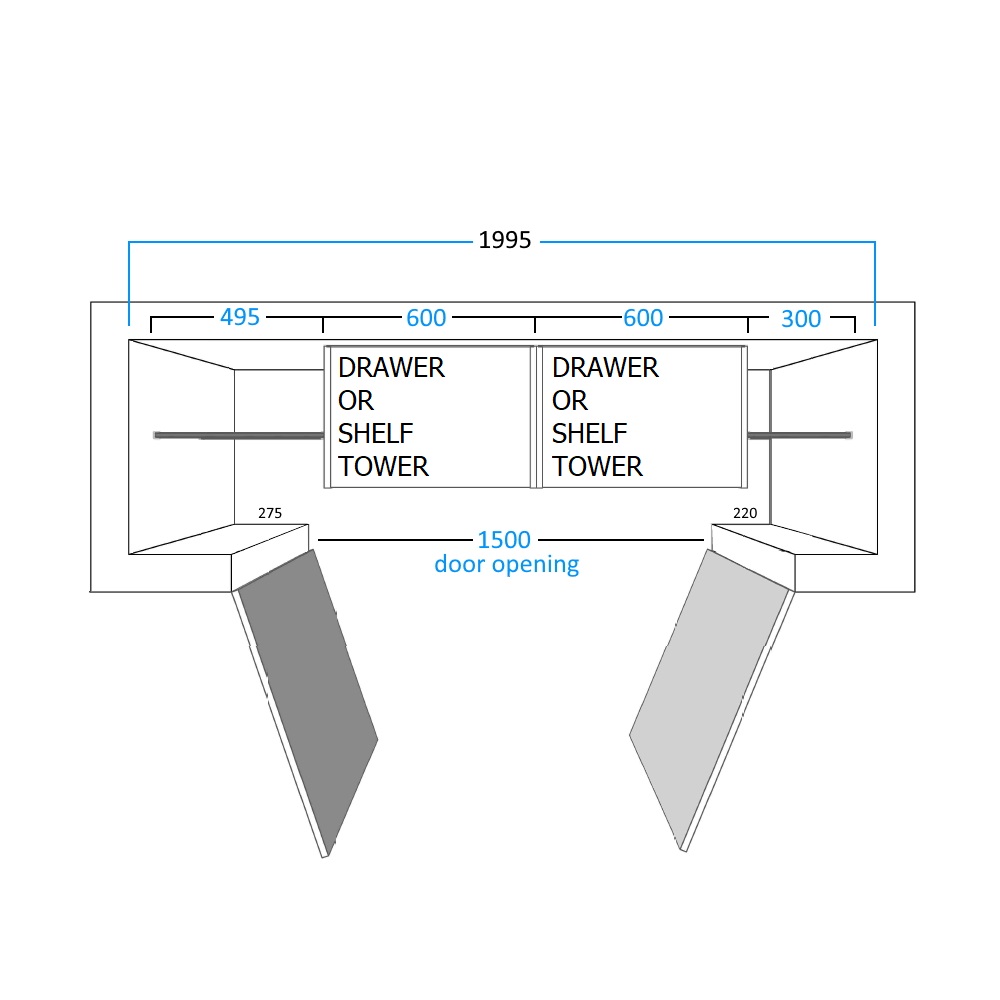 Case Example 4:
Large Reach-In Wardrobe 2823mm with 3 sliding doors.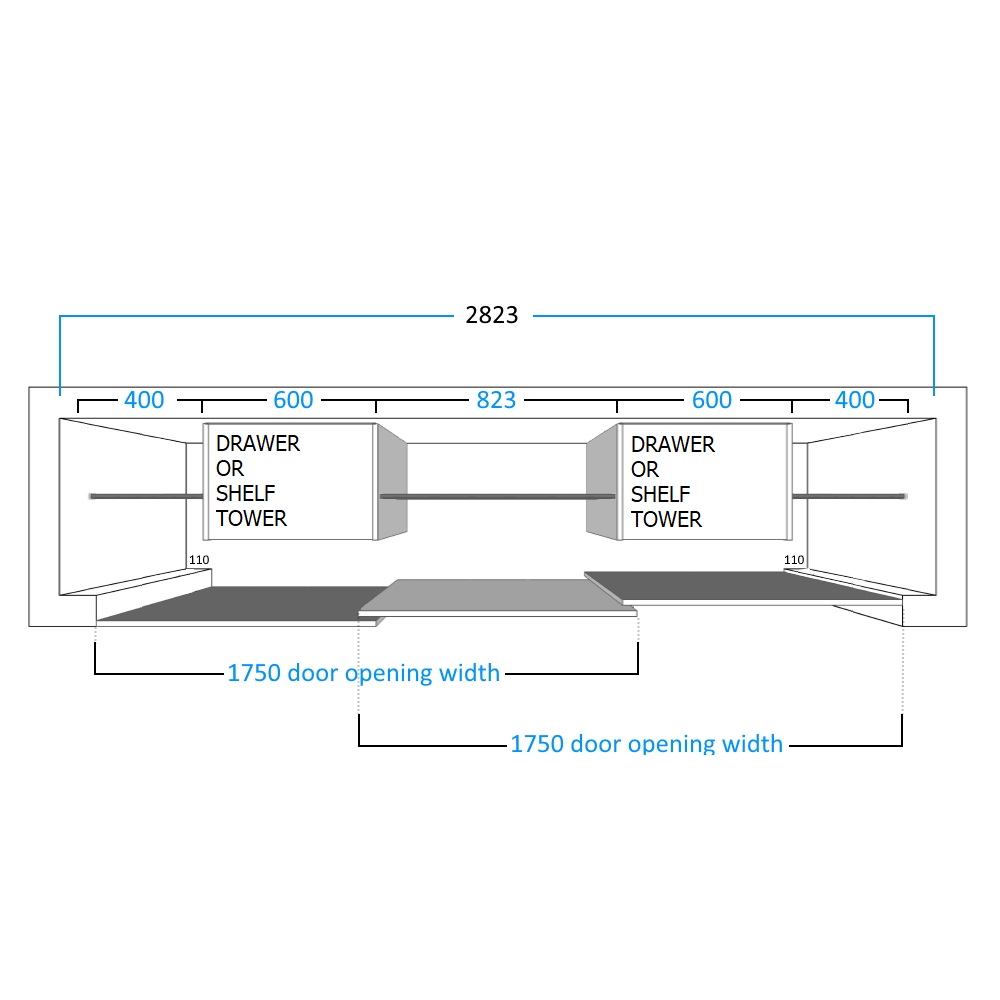 Case Example 5:
Walk-In Wardrobe.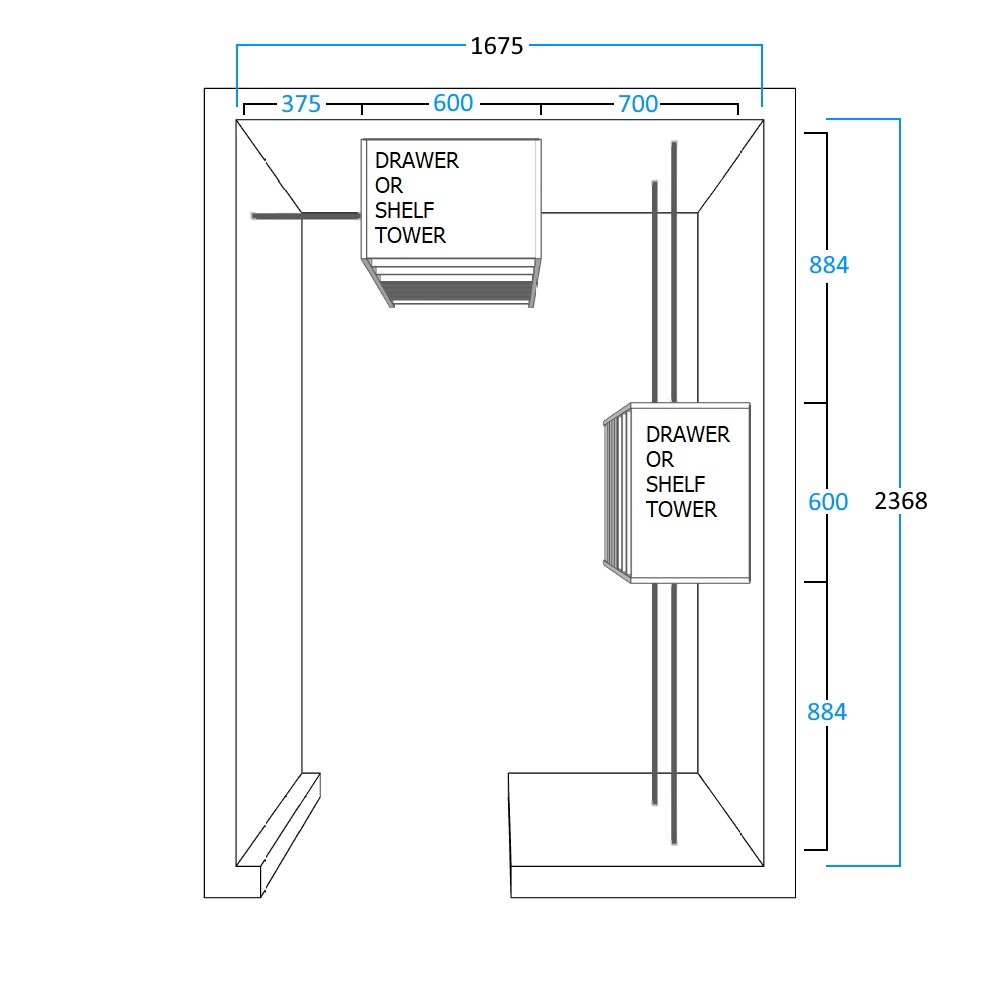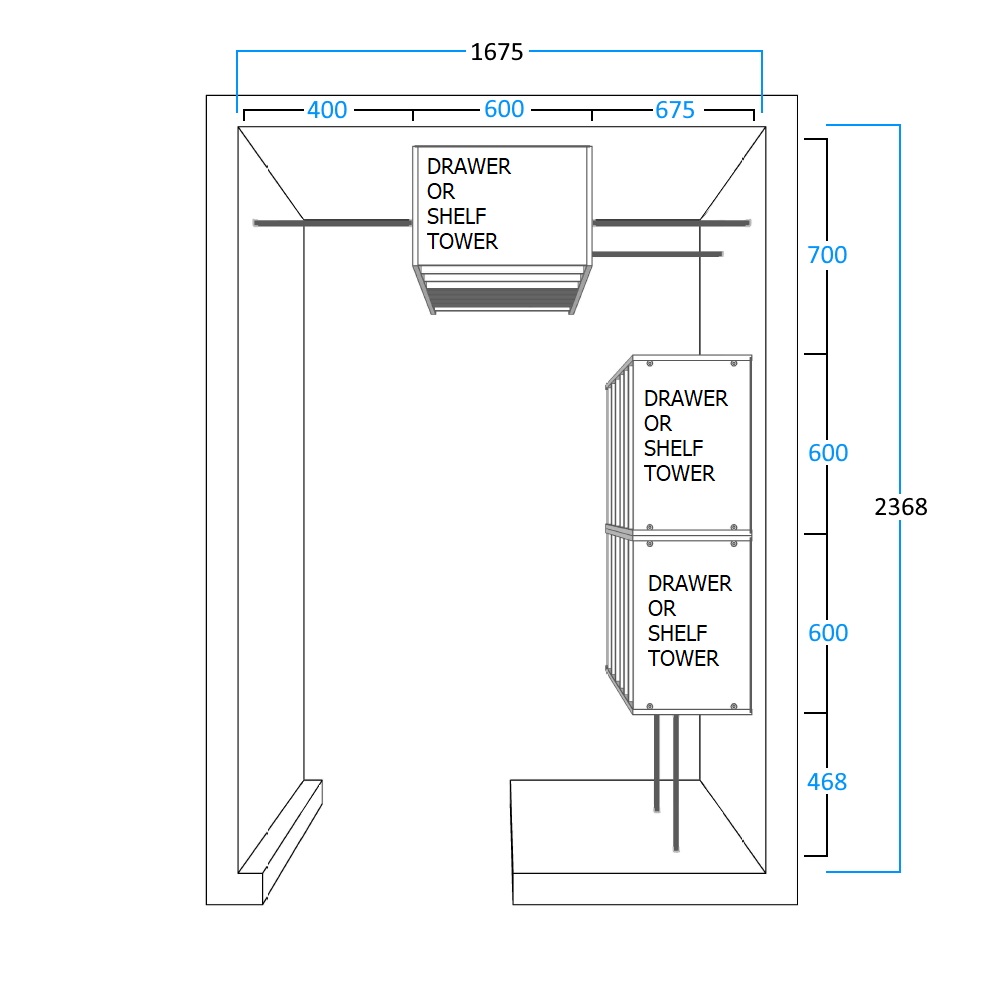 Our customer service team are happy to answer your questions. Please use our enquiry form on the contact page to send us your wardrobe details and what you would like in your wardrobe. Then we can recommend something for you!