Storage in Rental Homes

Storage in Rental Homes – It's no secret that a huge number of New Zealanders rent the house they live in, in fact around 1 in 3 Kiwi households rent!* Renting a home has its pros and cons, and storage solutions can be one of those grey areas as to whether you can add storage without it being a permanent fixture or requiring permission from your landlord. The good news is there are plenty of DIY ideas to not only increase the storage in your home, but add flare to your home décor. Since rentals usually lack storage, we've put together a few ideas so you can enjoy more storage, and best of all – take it with you when you move!
1. Wardrobes
There was a period when architects didn't always plan for built-in wardrobes in bedrooms, and people were forced to buy big old clunky wooden wardrobes that completely consumed the bedroom, overwhelming whoever dared to enter (seen the movie The Lion, The Witch, and the Wardrobe? You get my drift!). Thankfully a lot of homes have built in wardrobes with at least a shelf and rail. But if your rental home wasn't blessed with a built-in wardrobe, then you may want to consider investing in a humble freestanding wardrobe. There are plenty of options out there, including our stylishly modern 1230 Absolute Wardrobe, which comes complete with space-saving sliding doors.
2. Storage baskets
Store your blankets, shoes, cleaning products, linen…in fact just about anything! There are no rules when it comes to storage baskets. Display them on shelves for all to see, or keep them hidden behind closed doors – you choose, either way there is no denying that storage baskets do a great job of sorting and containing your goods. Storage baskets can be found in most home design stores and big retailers, are relatively cheap, and come in a variety of fabrics, shapes and sizes.
3. Shoe storage
Do you keep your shoes in your wardrobe, or at your front door? Are they piled amass on the floor, or sitting politely in pairs on dedicated shelves? Putting your shoes away at the end of the day need not be tedious. Shelving is the most obvious and easiest choice, as it's quick to put shoes away and they are instantly visible for when you are trying to find the pair of shoes to go with that outfit. Shelf Towers can be used near the front door, inside a cupboard, in the garage or inside a wardrobe, wherever suits you to keep your shoes. Opt for a Shelf Unit that has adjustable shelves, so you can maximise your storage capacity by lowering the shelves above flat shoes, and extending the height for boots and Wellingtons. We recommend our Mini Shelf Tower for multipurpose storage.
4. Over the door hooks
Hooks can be used to hang a multitude of items: coats, towels, bags, scarves, dressing gowns, nappy stackers, umbrellas….the list goes on. Over the door hooks are perfect to use when you don't want to (or can't) drill a hole in your wall. They simply sit over the top of the door and provide hooks for extra storage. Here's a great tip – hang tomorrows outfit on the back of your door for a quick morning routine.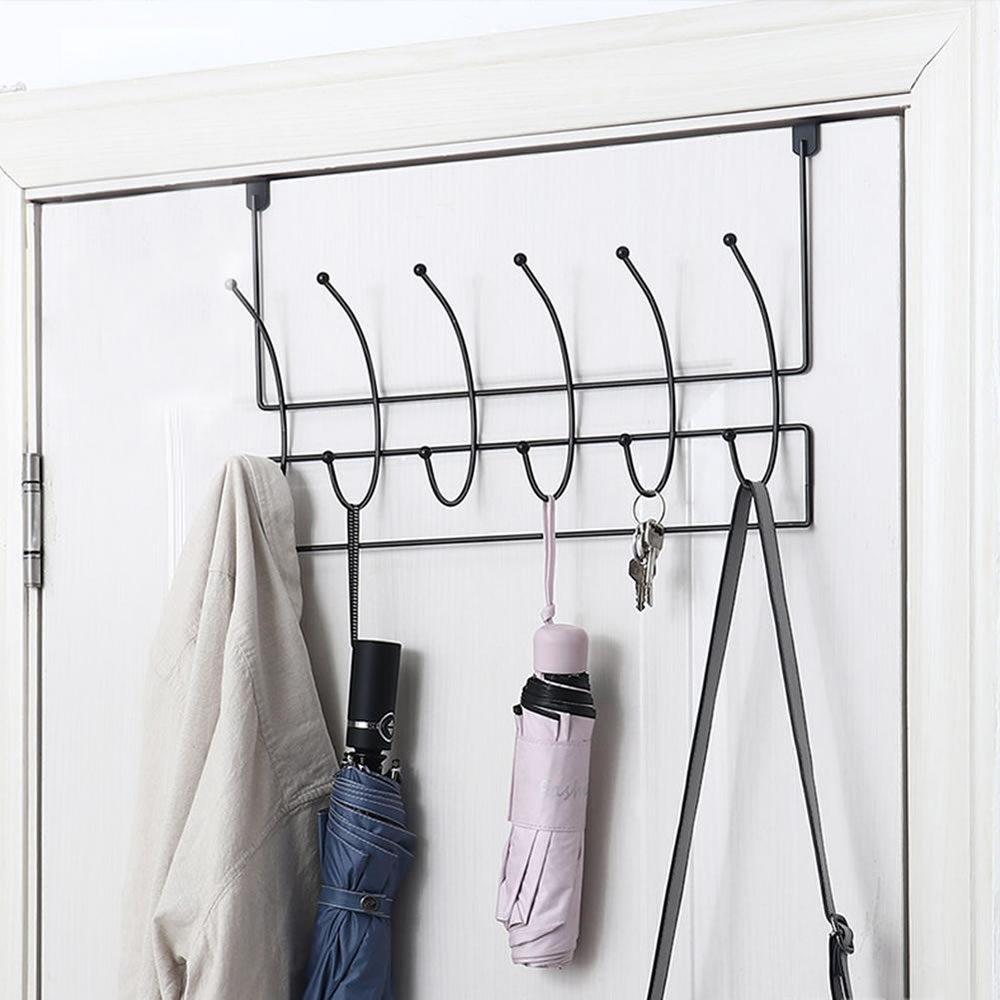 5. Book shelves
Even though we call them book shelves, a lot of the time they are displaying anything but books. Book Shelves or Shelf Towers allow you to display your prized ornaments, travel souvenirs, pictures, and other nik naks. Or add storage baskets, and they become a storage haven for your all your "stuff". Locate them in your living areas for display, or inside cupboards and wardrobes for discreet storage. We recommend our Chester Series Shelf Tower for on display or inside your wardrobe.
Full disclosure – it is recommended to secure storage furniture to walls for safety. Always check with your landlord before drilling in to the walls, but you will find when it comes to safety most landlords are more than happy to work with you… More useful info…
(*source Stats NZ 2019)